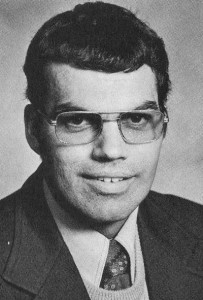 John Larry Deffenbaugh was a demanding individual—of himself, of his students, of the young men he coached. And that drive for perfection stood him in good stead through an all too short athletic and coaching career.
Deffenbaugh achieved state-wide recognition while still in high school. He was a starter on the 1958 Northwestern High School state 'A' championship basketball team and was instrumental in guiding the Huskies to a runner-up spot in the state 'A' baseball finals later that year.
On the diamond, Deffenbaugh held down the first base position and was the number two pitcher behind Dean Chance. Northwestern compiled a 106-5 baseball record during Deffenbaugh's four year varsity stint, and the husky southpaw swinger posted a composite .425 batting average in addition to a perfect 19-0 mound slate.
Deffenbaugh matriculated to Ashland College, where he lettered four years in baseball (on the strength of a .325 career average) and three times in basketball.
Following his graduation from collegiate ranks, Deffenbaugh began a distinguished coaching career. Starting as an assistant basketball coach at Marion Harding High School, he later moved back into the area at Orrville High School. His 1967-68 Red Rider cage team tied for the Chippewa Conference championship, and his 1968-69 squad posted a 12-7 overall mark en route to the Chipp title. In 1969, he returned to Northwestern, where he carved out a four year record of 41-37.
Deffenbaugh retired from coaching in 1973 and went into business as a salesman for Walter Bates' auto dealership in Wooster. He remained active in local fastpitch softball circles, however, playing for Orr Parks, Wooster Merchants, and the Kidron Merchants. In 1972, he batted .346 on a 61-16 Kidron team that finished second in the District. Kidron's 1973 ball club won the Class 'AA' state crown, with Deffenbaugh belting the ball at a .440 clip in state completion and being named to the All-State Tourney team in the process. One year later, in 1974, he managed the Kidron nine to a fine third place showing in the 'AA' State tournament.
Deffenbaugh passed away in 1976 at the age of 36 after a bout with cancer.