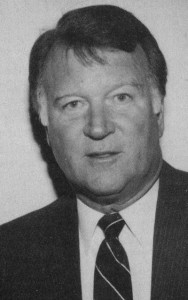 An individual who stars in three different high school sports is a rarity today. Although they were more prevalent in the past, such players have never been plentiful. Jerry Galehouse was more than a three-sport star in his career at Doylestown High School.
He excelled in football, basketball, baseball and track, earning a total of fifteen varsity letters. Jerry only earned three letters in football, but he was an All-Wayne County League end in those three seasons. He played on a Chippewa team that won 25 of 27 games and three Wayne County League titles.
Galehouse lettered four seasons on the hardwood and became Doylestown's career scoring leader with 1,728 points. He became the Chipp's starting enter as a sophomore and finished as runner-up in the WCL scoring race for the next three seasons with averages of 28.4, 28.6, and 25.0 points per game. He was the league MVP and third-team All-Ohio as a senior, pacing the Blue and White to an 18-3 record, as the team captured league, county, and sectional titles. He also enjoyed a 59 point single game outburst as a sophomore, a mark which still stands as a Chipp record.
Springtime found Jerry dividing his time between the diamond and the cinders. He earned four letters in track, specializing in the discus and running as a member of the mile relay team. This team won the county title and later advanced to the Ohio Championships in Columbus.
His best sport was baseball. He lettered four years and picked up All-Wayne County League recognition as a pitcher for three of them. He led the Chipps to the state finals as a senior with the following performances. He began with a 1-0 win in the sectionals; a 5-0 shutout with 16 strikeouts and no walks followed in the district tournament; a 3-0 regional effort resulted in a two-hitter with 13 whiffs and still no walks; the finish was a 1-0 triumph in the state semi-finals, a game in which he fanned 13 batters, walked two and scored the winning run in the seventh inning. After the team was defeated in the finals, he and his track teammates then ran in the relay race at the state meet later that evening.
Galehouse's stellar efforts on the diamond earned him a baseball scholarship at Wake Forest. Unfortunately, his college career was cut short due to calcium deposits in his hip as a result of a high school injury.
He is in the computer business today and makes his home in Roswell, Georgia. He joins his Father, Denny, as a member of the Wayne County Sports Hall of Fame.