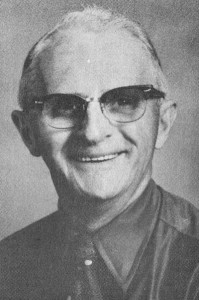 Softball enjoyed a high peak of popularity in the area throughout the 1930's, 40's and well into the 1950's. Players came and went during that period, but one of the few (and perhaps the only one) who starred during that entire era was Jefferson C. Etling of Marshallville.
In fact, Jeff actually preceded that Golden Era, starting in the days of the old outseam ball at time when the game was known as "indoor" softball, received early acclaim when his team, Bower's Meats, won the 1931 Orrville Labor Day tournament.
Although Etling stood only 5-6 and weighed 150 pounds, he generated surprising speed. This, coupled with a fast breaking curve, and the ability to pitch four and five times per week, made his services in constant demand. Over the years he hurled for numerous teams in eastern Wayne County, as well as Akron and Barberton club.
He notched a number of no-hitters and was on the hill for several other Labor Day tourney winners, in addition to the Wayne County Fair tournaments in the 1930's. Jeff could also handle the bat and when someone else toed the slab, usually filled in at second base.
His pitching trademark, a holdover from his early days, was the fact that he never wore a glove. His trademark, in other fields of endeavor, was versatility. He became associated with his cousin, Harold, in the production of Weather-Seal window. He also managed the prestigious Wayne Knolb Farm, noted for champion Angus cattle, for a time. In addition, he has maintained his own farming operation over the years.
Good guys do not necessarily finish last. Jeff Etling combined a high degree of sportsmanship with outstanding ability to fashion a career that extended across four decades.