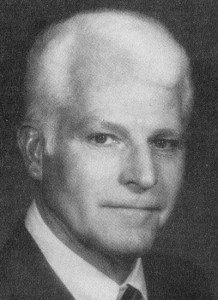 Harry A. Ditch was a child of the Great Depression. He was 13, the oldest son, when his father died in 1934. His mother managed to keep the four children together, principally on the strength of a pension for his dad, a World War I veteran.
Ditch attended high school at Rittman, where his coach was Philip E. Young, known as Tib. Harry played basketball and football, the only sports that were available. The football team was undefeated during his sophomore and senior years, and the basketball team was good enough to pin the only defeat on the state champion 1937-38 Canal Fulton team.
Two games, in particular, stand out from his scholastic career. Canal Fulton's girders had beaten the Indians something like 40-0 during his junior year. As a senior, Ditch scored two TD's on long 70-yard runs to win, 13-7, before an appreciative hometown crowd. He also played in an epic 61-49 round ball win at Orrville when teammate Ward (Pinky) Yarman scored an unheard of 50 points. Ditch was second high for Rittman, with three.
He graduated in 1938, and with no job in sight, offered no resistance when Coach Young talked him into enrolling at The College of Wooster. He performed a variety of campus jobs in return for his education. This left time for only one sport, and he chose football.
He turned out to be the last of the truly great all-round performers in Scot history. Ditch did most of the ball carrying, most of the punting, and much of the passing. He was also a primary receiver, returned kickoffs and punts, and was the safety man on defense.
Harry was a spectacular performer, giving evidence of things to come when he scored on his first play from scrimmage. He repeatedly broke lone scoring runs of 50 or more yards, with the highlight being a 20-12 win over Muskingum in his senior year. He ran back a kickoff for the length of the field, then scored again from 50 yards out. Ditch also became adept at quick kicking, booming the all far downfield, even on first down. He was honorable mention OAC as a junior, then unanimous first-team All-Conference a year later.
Following graduation he served in the U. S. Army. He saw his share of action in New Guinea and the Philippines, and still carries some shrapnel in his back as a souvenir.
He returned to Rittman and conducted his own painting contracting business for a dozen years. He then joined Bogner Construction Company as superintendent, retiring two years ago. He and wife Esther have three adult children: Jim, Tom and Joan, plus four grandchildren.
A little known fact is that Ditch carried a 200-plus bowling average for years. But, then, sports of all sorts were right up Harry's alley.