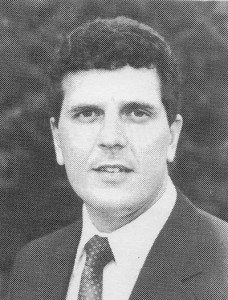 When Fred Blosser played football at Kent State University, his coach, Don James referred to him as the "most consistent player on our team." This description of Fred has been applicable to all of his endeavors and it can be added that he has been consistently good.
Although he was the recipient of ten varsity letters in high school, his best sport was football and recognition came early at Dalton. He was selected All-Wayne County League and All-District for three straight seasons. An All-Ohio Honorable Mention spot was also awarded him in 1967, a year in which he captained the Bulldogs to the league title with an undefeated ten win record.
Fred's football abilities gained him a scholarship to the University of Michigan where he played middle guard for the freshman team; however he transferred to Kent State the following season. He was red-shirted in 1968, and then blossomed in 1969 earning a spot as first-team center on the all Midwestern Athletic Conference team. He repeated this honor in 1970 and also was selected for Honorable Mention All-American status by the Associated Press. Playboy Magazine picked him as a top Midwestern player in its 1971 Football issue. Blosser captained the 1971 K.S.U. team and was selected as the team's outstanding player at the end of the season. A third successive All M.A.C. spot eluded him as the Golden Flashes had a less then successful season.
Upon graduation, Fred entered the teaching profession at Orrville High School. He found school administration more to his liking and after serving as assistant principal at Orrville and Hicksville High Schools, he later returned to Orrville as principal. He has since switched to Canton McKinley High School where he is the present principal.