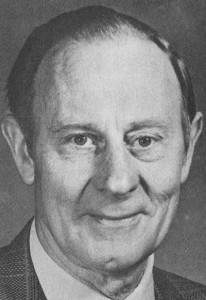 Few observers on the local scene are as well informed on Wayne County basketball as Smithville's Wilbur Berkey. When asked for the top scholastic player in his 50-year memory span, Berkey wasted little time in his response.
"No question about it," he said. "The top player, in my mind, was Frank Grenert, who played center for little Apple Creek High School. Frank was an earlier edition of Bill Russell, who later dominated both boards in the pro. Frank wasn't a big scorer, but he didn't have to be. The other team didn't get many, either."
Frank sparked the Aces to two Class B County championships and then at the urging of his coach, Ralph Ely, enrolled at The College of Wooster.
Freshmen were not eligible for varsity duty in those days, but Grenert combined his talents with two other sophomores to spearhead the best cage team in Scot history. The others were Dick Grenert and Pudge Hole, son of coach Mose Hole. Aided by Bot Bruce and Dave Henderson, the G-G-H trio rolled to a 19-2 mark, undefeated in Ohio Athletic conference play.
A year later they were 17-2, and again, sailed through the OAC schedule without a loss. As seniors they were finally defeated, at Otterbein, after running their unbeaten league record to 36 games. The three year total read 51 triumphs against only eight losses.
Bud, as he was known, had big hands and the ability to control the boards in an effortless fashion. He was not a flashy player, simply an extremely efficient one who won with monotonous regularity.
Frank served in World War II as a cryptographer, taught and coached at Killbuck and Apple Creek and then became principal at Northwestern High School in 1952. He recently retired after a distinguished career as superintendent of the Northwestern Local School District.