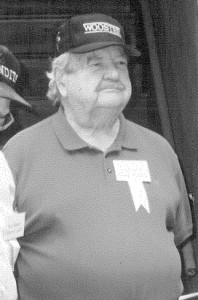 Ed Arn was never an athlete, but he has made a major contribution to the sports scene in this area. Always a promoter and salesman, as well as a super fan, Ed became captivated with the idea of establishing some sort of recognition for outstanding athletes.
That was a score of years ago, and as the direct result of his efforts, The College of Wooster Alumni "W" Association Athletic Hall of Fame came into being in 1967. He contributed to the formation of the Wayne County Sports Hall of Fame in 1976, and the Holmes County Sports Hall of fame five years later. He has also served as a consultant for other similar organizations.
Born in Cleveland, Arn graduated The College of Wooster in 1931. That was just in time to join the throng of Great Depression job seekers. He was successful, catching on with the May Company, Firestone Tire and Rubber, and finally the American Seating Company in 1939.
With time out for the war, Ed spent the next 20 years with ACS, singing the praises of his products, (and the College), to any and all prospects.
His military career was spectacular. Almost constantly under fire in the European Theatre, he earned five battle stars, Purple Heart with Cluster, Silver Star with Cluster, and numerous other citations. He achieved the battlefield rank of captain. He has continued to be active in veterans'' groups as a civilian.
Ed's tireless work on behalf of his Alma Mater resulted in his returning to the Wooster campus in 1958 as a member of the development staff. He participated in a number of fund raising campaigns, and then was appointed Director of Alumni Relations. His enthusiasm and organizational talent was a cornerstone in building Wooster Alumni Association into one of the finest of its kind.
He retired in 1974, but has continued his ties to the "W" Association, as well as to the Wayne County Sports HOF and other organizations with similar goals.
Few can match his skill as an innovator. That, coupled with his tenacity for seeing a project through to successful completion, has earned Ed Arn the plaudits of area sports fan.