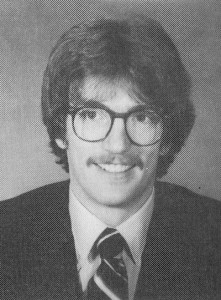 Dan Oliver was an outstanding jumper. Evidence of this was his Chippewa Conference record long jump of 22-2 in 1976. He was also an outstanding runner, capable of running 48 second quarter-miles.  Add running to jumping and you get hurdling, and as a competitor in both the high and low hurdles, Oliver was the best the state has seen.
The former Triway High School and Ohio State University athlete set state and national records in both the high and low hurdles and was one of the top performers in the world until his injury which occurred prior to the 1980 Olympic trials for which he qualified. He gained All-America honors at both the high school and collegiate levels.
Dan entered the track scene at Triway as a sophomore in 1974. He won conference and sectional titles in the 180-yard low hurdles and finished fourth in the state meet. His running and jumping gained him All-Ohio honors for the first three consecutive years. He came into full bloom the following year as a junior as he won the OHSAA state championship in the 120 high hurdles (13.9) and the 180 low hurdles (19.1), establishing state records in both. New records were set by Oliver that season in conference, sectional and district meets as well.
The year 1976 again found Dan Capturing state laurels in the high and low hurdles as he set records in booth, lowering his low hurdle mark to 18.9 and setting a 13.3 record for the highs. He also set national records for both the 50-yard high and low hurdles. Dan was a double-winner at the prestigious Mehock Relays in Mansfield and his 18.8 clocking in the lows broke the longest standing meet record which had been set by Olympic gold medalist (1964) Rex Cawley in 1959. Oliver ventured west to Sacramento, California where he won national championship honors with a 13,5 timing, setting a record for the 120 high hurdles in the process.
Attending OSU, Dan qualified for the NCAA Championships for three straight years. He won the Big Ten title in the110-meter highs in 1978 and repeated in 1979 with a record time of 13.9 seconds. Another record was set when he captured the 70-yard high hurdles in 7.1 seconds in the Big Ten Indoor championships. He finished second (13.55) in the NCAA final in a meet that was won by Renaldo Nehemiah, who, by winning in 12.95 seconds, became the first person to break the 13-second mark.
Dan captained the OSU team that season, gained All-America status and was ranked fourth in the United States an ninth in the world for the 110-meter high hurdles.
Oliver had another claim to fame in 1982 when, as a member of the Philadelphia Pioneer shuttle hurdle relay team, he participated in a world record 54.52 second running. Today, Dan lives with his family in Shreve.