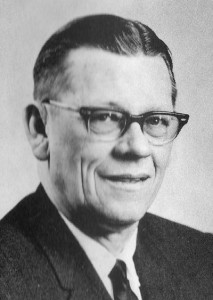 Over the years, there have been hundreds, perhaps thousands, of good golfers who have toured the fairways of area courses. Any player, knowledgeable in local lore, will tell you that for consistently high performance, over a long period of time, one of those golfers was simply in the class by himself. His name–Carl Mathis.
Mathis was indeed a marvel of consistency. He kept detailed records of his scores, and the yearly averages were always within a fraction of a stroke. Envious competitors referred to him as the Mechanical Man, a person who rarely made a bad shot, seldom became frustrated or upset and never boasted of his almost unbelievable feats.
There is little doubt that Mathis could have enjoyed a successful career as a professional. Every now and then he did compete in an open tournament or play an exhibition round or two with a visiting pro. He invariably held his own.
However, when Mathis graduated from Wooster High School in 1933, the Great Depression ruled out the possibility of making a livelihood on the links. The same conditions prevailed four years later when he graduated from The College of Wooster, so he cast his lot with the business world.
He started early, playing three years of high school golf, captaining the team during his junior and senior years. At age 15, he played on a six-man team representing Wooster in the Western Division of the Cleveland Golf Association which the local team won.
During his college career, Mathis captained the Scot team, won three letters on L. C. Boles' varsity squad, made a hole-in-one at Oberlin and won the first Ohio Conference championship ever held (1937).
There were other holes-in-one, course records for both nine and 18 holes at Hillcrest and the Wooster Country Club, and a number of impressive showings when he entered amateur and open competition in the 1940s and 50s.
One of his more remarkable feats occurred on July 10, 1950 when he took a five on the first hole at Hillcrest. The remaining eight holes required just 24 strokes for an incredible seven under par 29.
Equally incredible was his long string of triumphs at the country club. In all, Carl won 18 club championships. Originally, he and a close friend, Bob Schultz, took turns winning the crown. The most famous matchup came in the 1939 finals. Schultz fired a 34-34, but Mathis set a new course record with a 31-33.