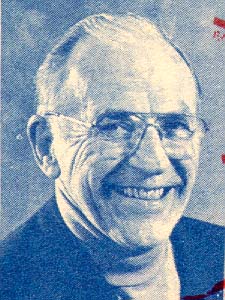 Roy S. Bates began coaching in 1938 after graduating from the College of Wooster. He retired from active coaching in 1966. During the basketball season, you will occasionally find him with the striped shirt, black pants, and the whistle of an official.
During his 28 years in coaching, Bates set records which will probably never be equaled. He is the only coach in the State of Ohio to ever win over 400 games in EACH of two major sports. In baseball, over 22 years, he compiled a record of 472 wins with only 54 losses for a winning percentage of 89.7. He won six league championships and one state championship (in 1959).
In basketball, his record is equally impressive. Over 28 years, his teams won 441 games while losing 84, for an 84 percent winning percentage. In this time, he won ten league championships and one state championship (in 1955).
Bates is the only coach in the state to ever win state championships in TWO major sports He had had teams in the "Sweet Sixteen" (into the Regional Tournament) 13 times in his career. He was named High School Coach of the Year in 1953 and 1965, and was named a member of the Ohio University Green and White Blub in 1965.
Along with his duties as Teacher, Coach, Athletic Director, and Official, Bates has also had a Sports Show on Radio Station WWST for the last 21 years and has done some public relations for the Cleveland Indians for five years. His education career has been at Chester and Northwestern High Schools.
The last few years, he has also worked with Bobby Knight from time to time at Indiana University.