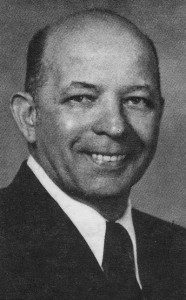 Robert Taliaferro earned a total of twelve letters as a student at Wooster High School. In the period from 1929 through 1931 he played baseball, basketball, football and ran track. In 1931 he was the captain of the football team and was chosen to the All-Ohio All-Star team. In track he ran in the relays and broad jump events.
At the College of Wooster, Taliaferro earned a total of six letters, three each in football and track. He played quarterback under L. C. Boles during the 1934 through 1936 seasons and ran in the half-mile events. He graduated from Wooster in 1937.
Taliaferro chose police work for his career and was on the Cleveland force for 27 years before retiring in 1975. He was assigned to the Juvenile Unit for 23 years. He also moonlighted at the juvenile detention home some of this period.
Police work is very competitive, like sports, in that an officer and his partner are graded on his performance. Robert and his partner always graded at the top of their unit. They maintained a conviction rate of 99.5 percent on cases that went to trial.
Taliaferro says, however, that the greatest satisfaction comes from preventing juveniles from ever coming to trial and a big part of his job was talking to young people to try to keep them from getting into trouble in the first place. Arrests are really made at the discretion of the officer, so an officer can determine whether a suspect may be saved from a life of crime by a little talking rather than an arrest.