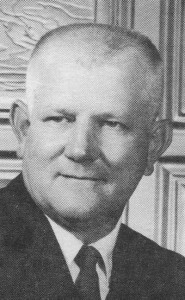 Much of Mel Riebe's local fame rests upon his long and effective career as athletic director at Waynedale High School. He was the school's first coach and athletic director, coming to the Golden Bears following graduation from The College of Wooster at age 38.
He turned out an endless array of topflight basketball and football teams and this, coupled with the extensive play-by-play work which he did for WWST radio, made his name a byword in the area.
Earlier in his career he had written his name in large letters as an extraordinary athlete. He grew up during the Great Depression starring in basketball for the Euclid Shore High School team. Small for his age, only 5-4 and 100 pounds, Riebe relied on long two-handed set shots from mid-floor. Following graduation, he put on additional size, and inked a contract as a minor league second baseman. Mel never emerged from the bushes in baseball, but his sensational play during winter amateur ball established him as a superman of the hardwoods.
Riebe played at breakneck speed, using an assortment of trick shots around the backboard that had to be seen to be believed. His team, Chase Brass, simply spread eagled all comers in Northern Ohio. Pitted against the New York Rens, one of the nation's top pro teams, Riebe scored 36 points, a feat which earned him headlines across the country.
Mel went on to the professional ranks, playing for the Allman Transfers. He twice led the National Basketball League in scoring. Then came a stint in the Navy where he carried the scoring load for the Great Lakes team which met all comers.
Following World War II, he played for the old Cleveland Rebels and the Boston Celtics. When it came time to draw the curtain, Riebe embarked on a new career at Wooster College, commuting from Homerville where he operated a service station.
Mel earned his "W" at Wooster in golf, using an unorthodox, yet highly effective style that he had developed on his own.
Riebe was a warm, friendly and who worked well with young people. He played, coached and lived at full throttle. The end came last July to Mel Riebe at age 61.