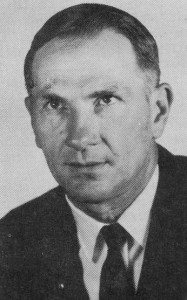 Max Kister has been a contributing and influential factor in Wayne County sports for many years. First as an athlete, then as an organizer and official.
As an athlete, Max played high school baseball for four years and basketball for three. He served as team captain on both teams. Kister played on Shreve's first County Tournament Championship team in basketball.
In Military Service, Max played softball as well as officiating basketball games between service teams. Later he played baseball on such teams as the Fibey Printers and the Loudonville Indians. He also organized and played on the Shreve Independent Baseball team.
Since no sporting event is complete without the officials, Kister decided to become one of these. He refereed basketball games for 32 years, at times working as many as five games in one day. His officiating encompassed high school, college and semi-professional ball. He has worked high school games at the state tournament level.
Max organized and still manages the Shreve Little League program for ages 7-12. This program has no sponsors as such and is totally self-supporting. He has made baseball possible for 120 boys per year for 20 years.
Kister was also instrumental in organizing the Wayne County Little League and served as president for several terms.