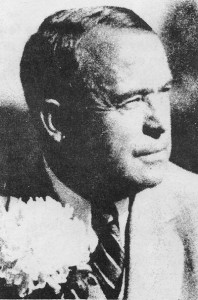 Although Lawrence Casper Boles died in 1945 at the age of 62, he remains the dominant individual that I have encountered on the Wayne County sports scene. Boles was an outstanding golfer, but his fame did not rest on his ability as an athlete. In fact he did not participate in inter-collegiate sports at Ohio Wesleyan.
It was through some magic of chemistry that L.C. Boles was able, in the words of one of his College of Wooster football players, "to create a desire in people to rise above themselves." This ability surfaced early in his high school coaching career. In six years at Fostoria (Ohio) High School, his football teams were 47-4-2, and were acclaimed state champs in five of the six seasons. His 1912 squad, which ran 596 points to exactly zero for the opponents, was regarded as the top scholastic team in the nation.
Boles took over the Wooster helm when the sports picture was at a low ebb. He handled baseball, basketball, golf and track, but it was on the gridiron that his genius shone most brilliantly. Over a 24-year span, beginning in 1915, his teams won 134, tied 19, and lost only 50.
During one incredible stretch, from 1917 through 1923, his machines won 52 of 59 games. Three were ties and only four were losses. To make it just a little more staggering, the Bolesmen scored 1179 points against 110 and whitewashed their opponents in 43 of those 59 contests. Perhaps his most memorable game was the 7-7 tie at Ohio State in the fall of 1924.
While Boles was originally a one-man gang, he had the knack of choosing highly qualified assistants who carried the Wooster torch with remarkable effect. Mose Hole, Carl Munson, Art Murray and John Swigart were all selected by Boles. Those four coaches served a total of 165 years for The College of Wooster and touched the lives of thousands of young people.
Boles combined the qualities of integrity, sincerity and understanding, coupled with initiative and perseverance. He was a sportsman who simply would not tolerate anything that was not above reproach.
L.C. Boles did, indeed, cast such a shadow that his works did not diminish following his death. To the knowledgeable sports follower, the passing of time merely increased his stature.