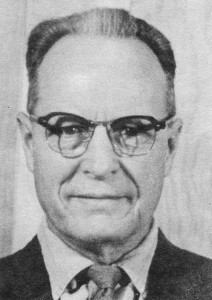 John Marion Swigart graduated from The College of Wooster in 1924. That was over a half century ago, but those who saw him play contend that he is still unmatched In Scot history as an open field runner.
But that was only for openers. He was also a clever quarterback, an excellent punter, a quick-quick artist par excellence and a sure-handed defensive back. He did all of these things with a 148-pound physique, topped by a flaming competitive spirit which sustained him, regardless of the odds.
The 1923 team, hailed as the greatest in Wooster history, was sparked by Swigart's leadership. That edition of the Presbyterian Steamrollers, as the L. C. Boles' coached teams were known, was probably the finest small college eleven of its time.
Swigart was also an outstanding track man, running the 100 and 220-yard events, the broad jump and did some hurdling.
The story did not stop there. He had played basketball, football and ran track at Wooster High, then launched a remarkable coaching career after leaving college. He started in the scholastic ranks, at Napoleon, and then returned to lead the 1925 edition of the Generals to an 8-2 mark.
Recruited for the second time by Boles, Johnny joined The College of Wooster, coaching staff in the fall of 1926. He remained on the Hill for 40 years. He is the only Scot mentor ever to coach five sports: Baseball, football, golf, swimming, and track. He also served as the athletic trainer and directed the intramural program for 20 years.
There were big games and big wins in all sports, but the number one thrill came in 1953 when his swim team won the Ohio Conference title.
Another headliner was Swigart's selection as a charter member of The College of Wooster's Athletic Hall of Fame in 1967. A third will doubtless come when John enters the Wayne County Hall of Fame.
But Swigart is more than an athlete and a coach. He was recently honored for his longtime contributions to the Central Christian Church. He served for 30 years on the Parks and Recreation Board, is a pillar of the Izaak Walton League, a former member of the Wooster Board of Education. The list goes on and on.
Perhaps there is no such thing as the truly all-American person, but John Swigart comes close.