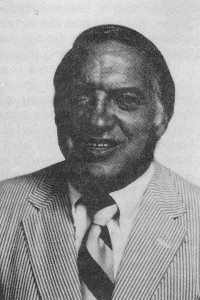 Hal Dean is one of the few Wane Countians to have played sports at the professional level. Hal was an offensive guard for the Los Angeles Rams during 1947, 1948, and 1949. The 1949 Rams won the National Football League Western Division crown.
Dean's career started in Wooster High School. He played tackle and fullback for the 1937, 1938, and 1939 Generals. In 1938 the team was undefeated.
Ohio State was Dean's choice of colleges. He played guard on the 1941, 1942, and 1946 Buckeyes. The 1942 team topped the Big Ten and was regarded as the National Champion. Dean was selected to the All-Big Ten team, and in 1946, he was chosen to play in the East-West Shrine game at San Francisco. He was also second team All-American choice. Hall received a degree in Geology from OSU in 1946.
During World War II, Dean served with the 11th Airborne Division and played football with them. Their 1945 team was the All-Pacific champion.
While with the Rams, Hal attended Stanford University and received his Master's Degree in Geology in 1949. Petroleum became his line of work after leaving pro football. He was employed for several of the major oil companies as a Geologist
Later, he became a consultant to the oil companies.
Dean is presently an independent operator in the Gulf Coast and the Permian Basin. He and his family make their home in Midland, Texas.