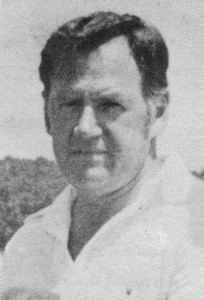 Earl Shaw played basketball at Cuyahoga Falls High School in 1943-44 and was selected to the Western Reserve League All-Star team. Soon after, his family moved to Wooster and Shaw went into the Navy. He played on the U.S.S. Midway team, which was the 8th Fleet champion in 1945 and 1946. He was voted the most valuable player in the Operation Frostbite tournament.
Shaw came to the College of Wooster in 1946 and played basketball all four years. He was the first Scot to score over 400 points in a single season, and to score more than 1000 points in a career at the college. His final total was 1491 points scored. Four times he was selected to the Ohio Athletic Conference All-Star team and three times he made the All-Ohio All-Star squad. During his stay at the college, the Scots' record was 62 wins and 22 losses, for a 73.8 percentage winning mark.
In football Shaw only played during his senior year. He still holds a record at the college, however, for the most passes attempted in a single season (126) and the most passes completed (67) for 53.2 percent. This was during the 1949 season and he finished second in the conference for completions and was ranked 14th nationally for small colleges.
During the summers, Shaw played softball. For the Wooster Lumbers he played shortstop from 1947 to 1949. In 1950, Earl moved to the Canton Road Furniture team from Akron and made the All-Star team in the 1951 State Tournament. He continued with the Akron team through the 1953 season.
Shaw played basketball in the National Industrial AAU League with the Goodyear Wingfoots from 1950 to 1954. He was captain during the 1953-54 season, the most valuable player in 1951-52, and all league All-Star 1953-54.
Golf has become Earl's sustaining sport in recent years. He has won the Wooster Golf Association-Country Club Tournament in 1965 and 1968. In 1070, he won the Wooster Country Club men's championship. He has also won six Masonic Shrine tournaments in Ohio and two in New York State.
In 1971, Shaw was elected to the College of Wooster Hall of Fame. He had been awarded the Manges Award as outstanding athlete in his senior class of 1950.