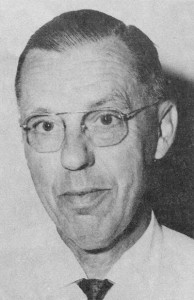 Don Welsh has taught school for 47 years. He is probably as well known, however, as an official as he is as a teacher. The list of accomplishments this man has made is almost endless. He started by lettering in track at Wooster High School.
Welsh became registered by the Ohio High School athletic Association to officiate basketball and football in 1931. He held this registration as an active official until 1970, a period of 39 years. In this time he worked football games (high school and college) for 37 years. For 24 years he also officiated basketball for high school and colleges. He was athletic director at Wooster High for 14 years.
Don has participated in all of the officials associations over the years. He was a member of the Wayne County Officials Association for 30 years (1945-1975) and held the office of secretary. He has been made a Life Member. He was president of the Eastern Ohio Football Officials Association in 1951 and holds a Life Membership. In the Eastern Ohio Basketball Officials Association he was president in 1953 and hold Life Membership.
In the Ohio Association of Football Officials, his membership was from 1948 to 1968, and in the Basketball Officials Association, it was from 1948 to 1958. He served on the North East Ohio District Board of O.H.S.A.A. from 1948 to 1978 and was president from 1971 to 1978.
On the North East Ohio Overall Board of Appeals his term was from 1958 to 1978.
Welsh served as commissioner of the Cardinal Conference from 1963 to 1976. He has been a member of the Ohio High School Commissioners Association, serving as president from 1973 to 1976.
By being a teacher, guidance counselor, coach and official, Don Welsh has contributed much to the youth so that they can better themselves academically and athletically.
The gymnasium at Wooster High School was rededicated in the name of Donald Welsh in 1978.