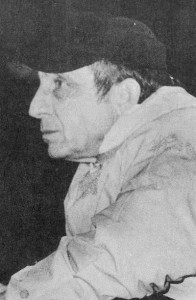 McFarren is a local man, born and raised in Dalton. He graduated in 1942 from Dalton High School and was soon called to serve in the Army. While in the service, he attended Oklahoma A & M for specialized training before being sent to the European Theatre of Operations. During his time overseas he was injured and was paralyzed for 25 days. This ended any future chances of playing football again. It did not stop him from furthering himself, however.
In 1951, Billie graduated from Wooster College and took an assistant coaching job at David Anderson High School in Lisbon. He was there until 1954 when he accepted the head football spot at Dalton. He retired from coaching after the 1974 football season and stayed on as Principal. His coaching record was 131 wins, 52 losses, and 4 ties for a 70.1 percent winning percentage. Quite impressive when you consider that this was in the County league. His Bulldogs were league champions nine of the 21 seasons he was their head coach.
Twenty-one men who played for him either have coached or are presently coaching. Two of these are his sons.
Billie J. McFarren excels in setting a good example to our youth and educating them in the best way a "class" guy can.